*Update: Trump retweets racist image Jeb Bush and his family with a swastika and a sombrero!  This is why people with a conscience can't stomach Donald Trump being on SNL tomorrow.  Here's Jeb Bush's response to the tweet.  He looks shocked but playing it cool for the cameras too.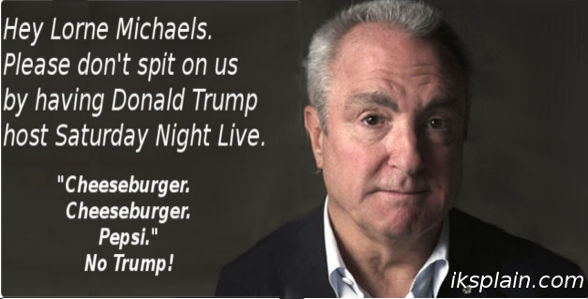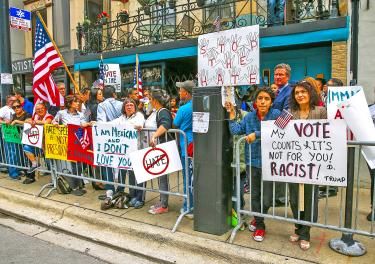 Hey Lorne, it's me Chay Eday.  I met you when I was 8 years old.  Let me explain this Donald Trump SNL controversy.  Even though you don't know me personally, I've watched you for almost my whole life.   Letting Donald Trump host Saturday Night Live, this Nov. 7th, is a seriously reckless decision.  It's already hurting a lot of people.   In fact, millions of your viewers are personally offended by what Trump has said about immigrants, women, veterans, black people, gay people, fat people etc. everyone else who isn't white, and rich, and has a penis.  Okay, I guess that means you're safe, but hear me out.
We helped you build SNL, Lorne Michaels!  I know you worked hard envisioning, creating, and growing SNL,  but we made it pay off!  By inviting Donald Trump into your home, you spit on everyone that helped you build it.  I'm not just talking about the anonymous "public" either.  You spit on people like Gilda Radner, John Belushi, Jane Curtain, Jon Lovitz, Dennis Miller, Tracy Morgan, Catherine O'Hara, Martin Short,Cheri Oteri and the whole crazy team.
Remember when Belushi, Murray and Aykroyd did the "cheeseburger, cheeseburger, Pepsi" skits?  Well the Greeks and Italians in Toronto and the G.T.A changed from just "immigrants" to icons.  (Yes Lorne Michaels, I'm from your hood.)  I'm sure the change was everywhere SNL was aired.  That's one example of why we need this type of artistry.  I respect the hell out of all the buttons you've pushed over the years.  Please keep pushing our buttons!  You  turn our laughter into critical thinking and eventually into growth.
Donald Trump does not.  He serves as a mean-spirited label dispenser, with terms such as "He's not a war hero", and  "that fat, ugly face of hers" and Laziness is a trait in the blacks.  A lot of us will spend a life time ripping those labels off of our backs.  Labels that are being printed by corporations like the network you work with, NBC.  So they fire Trump, denounce him, get lots of praise and then get back into business with him a few months later?  I'll let the results of their hypocrisy be their reckoning.  They are a business, but you are a man Lorne Michaels.  A member of our family.
The worst part of Donald Trump is that he is never ever sorry when he offends us.  He doesn't care how his words feel to us.  And that's exactly what we need from you Lorne Michaels.  We need you to care how your decision feels to us.  The people that built your SNL house with you.  Please change your mind about Donald Trump hosting Saturday Night Live.  Respect and loyalty are earned and lost on decisions like this one.  Sincerely, Chay Eday.  (The eight year old girl who grew  to love comedy, diversity, and cheeseburgers.  Not necessarily in that order)

Hey readers.  Please take a second and share this letter if you're with me on this one!  We need retweets!  You can click on any of the social icons on the left.