Dump Trump!  That is the growing cry from two major Canadians cities.  Trump's hateful comments have  hit a nerve with Canadians.  Canada is a proudly multicultural country, and the Trump name has become an eyesore on some key downtown buildings.  As a result, Toronto city Councillor, Josh Matlow, is officially calling for a name change to the Trump International Hotel and Tower Toronto.  He has sent a letter to Talon International Inc., the owners of the 68-storey hotel and condo development located in downtown Toronto.  Matlow has also taken to Twitter to publicly call out Donald for his racist comments.
I believe the owners of Toronto's Trump Tower should change its name. Toronto is a diverse & respectful city. Donald Trump is a fascist.

— Josh Matlow (@JoshMatlow) December 8, 2015
I'm writing to the owners of the Trump Tower today to make this request. — Josh Matlow (@JoshMatlow) December 8, 2015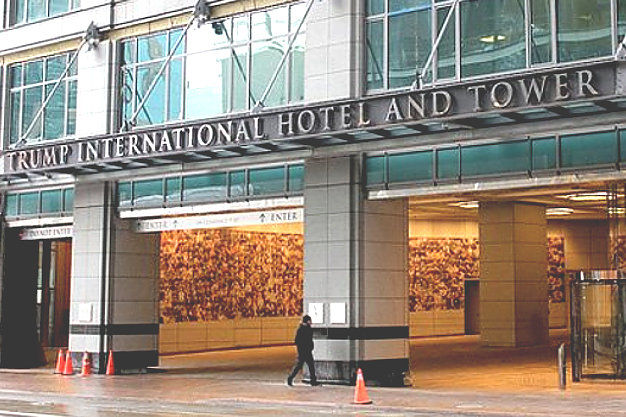 Dump Trump is happening in Vancouver (a major Canadian west coast city) as well!  Former chief city planner, Brent Toderian, is asking developers, Holborn Group and TA Global, to remove Trump's name from a building set for completion next year.  In a quote posted by thehill.com, Toderian says:
"As the discourse just gets more and more horrifying in the United States, it bothers me more and more that our second tallest building has his name attached to it," Toderian said of the 63-story Trump International Hotel and Tower Vancouver.
Canada is not alone either! The mayor of St. Petersburg, Florida has chosen to DUMP TRUMP from his city.
I am hereby barring Donald Trump from entering St. Petersburg until we fully understand the dangerous threat posed by all Trumps. — Rick Kriseman (@Kriseman) December 8, 2015
The Mayor of Philidelphia, Michael Nutter, added Philly to the DUMP TRUMP list.  This Mayor wins the day for having the best statement about Trump.  Watch him sum up Donald Trump perfectly.
As my hometown, and my heart, I say AMEN to Toronto!  I fully supported the movement to get SNL to DUMP TRUMP.  I even posted a very passionate open letter to Saturday Night Live producer, Lorne Michaels.  Even though, we failed,  we started this important movement.  The world needs to be united in it's fight against racism, and fascism.  Hopefully more cities will decide to DUMP TRUMP!

What do you think of Canadian and U.S. cities decisions to DUMP TRUMP?
Sound off below!  Also sharing my posts and my site is a huge way to show appreciation for my work.  Take a second to hit one of the share buttons on the left.
Thanks with much love and respect. – Chay