Porsha Williams attacked Jami Ziegler, her employee, at the Real Housewives of Atlanta season 8 Christmas party.  Now more details have come out!Porsha Williams arrived with every intention of confronting Jami Ziegler, if Jami was bold (dumb) enough to show up.  Why?  Because Jami was with a guy who was Porsha's sugar daddy at the time!  Yes people, I AM talkin' 'bout the "shoes and purses" hustle.  AND this guy, "Mr. E." is a married man!  Well, as Porsha's brand manager for 'Go Naked Hair' and BFF, Jami Ziegler knew all about the perks Porsha was getting.  At some point, Jami started to get in on the game and Porsha found out!  Porsha felt threatened that her thot status would be exposed that night and possibly jeopardize her peach on Real Housewives of Atlanta.
Porsha knew she couldn't claim the dude without revealing that she was messing with a married man.  Especially with Bravo cameras were at the party.  AND JAMI KNEW THIS TOO.  So Porsha showed up to the RHOA party with her friend Shamea Morton, and some huge guy she called her "brother."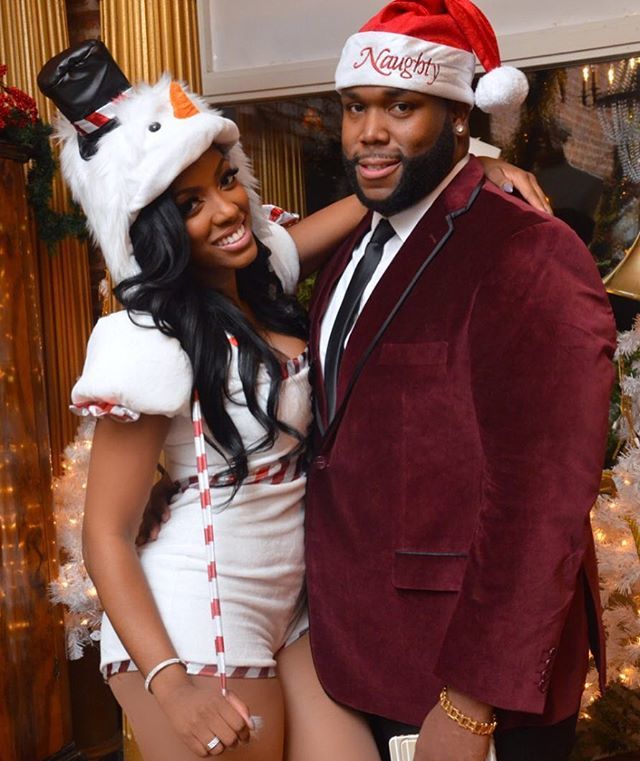 The guy in the picture was really there as Porsha's personal bouncer/security just in case things went left.  Porsha demanded that Ziegler be blocked from the party, and had Bravo kick Jami out as soon as she spotted her.  Porsha did not draw too much attention to the sugar daddy though, hoping to keep the reason quiet.  Jami agreed to leave and had already reached the parking lot, when the fight happened.  Jami left and Bravo cameras were not following her. Porsha was still furious with Jami, though.  When she saw that Bravo cameras were not with Jami, she slips outside and confronts Jami.  That's when the fight happened.
"We're told Porsha Stewart followed Jami outside, shoved her to the ground … then started punching and pulling hair.  The fight was broken up quickly enough that cops weren't called, and there were no serious injuries. We're told cameras even missed the action." [TMZ]

Well, Bravo must have found someone who had their cell phone out!  (Cha-Ching!)  They've promised
RHOA
viewers that footage will be shown on
The Real Housewives of Atlanta reunion season 8 part 2.
.  Kandi Burruss and Cynthia Bailey have both done interviews confirming the footage will be aired.  Lawd!
UPDATE 1*  Porsha went to anger management class! Watch how clueless she is, in the link below!
UPDATE 2*  Jami filed to have Porsha arrested! (July 10 2016)      
Save
Save
Save
Save