Melania Trump copying Michelle Obama's speech at the Republican National Convention was breathtaking.  But, Melania was a fraud way before that.  Shehas been exposed as a liar when it comes to her past, and specifically her education.  Melania was born Melanija Knavs, April 26, 1970.  At some point, her name was changed to Melania Knauss.  She was born in Slovenia, which was then part of the Socialist Federal Republic of Yugoslavia.   She became a permanent resident of the United States in 2001 and a citizen in 2006.  As a teenager, Melania went to a Yugoslavian high school for design and photography.  She even studied at the University of Ljubljana for one year before dropping out.  Sounds pretty good right?  However, it seems the truth is not enough for Melania Trump.  She's now been caught in a ridiculous lie.
For some crazy reason, Melania has taken her one year university education, and magically labeled it as  "a degree in architecture and design"!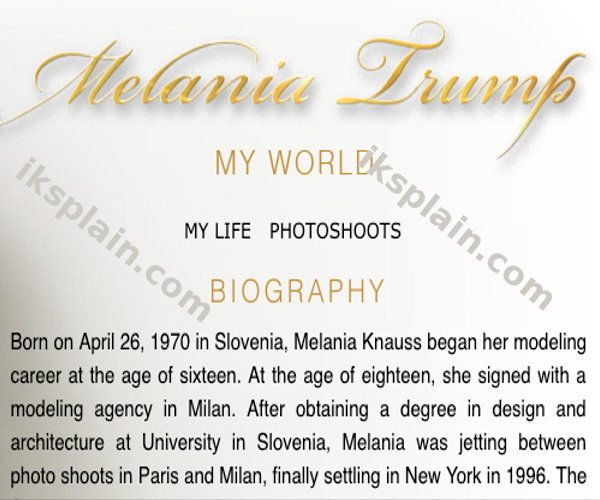 Her bio on her official website states she graduated with a degree in design and architecture from "University in Slovenia." It's a claim that's been repeated by the Trump campaign and the RNC itself, in the convention's official program.

However, the Slovenian writers of her biography wrote that Trump actually dropped out from the University of Ljubljana after her freshman year. Politico's Julia Ioffe wrote the same thing in a profile of the presumptive Republican nominee's wife that appeared in GQ back in April.

The Huffington Post reported a spokesperson for Donald Trump did not respond to a question about his wife's educational background. [cleveland.com]


Since
Melania
has been exposed for lying about her education, her website,
www.melaniatrump.com
, has been rerouted to the homepage for
Donald Trump
's website!  This is hilarious symbolism.  Presto change-o!  Just like
Melania
's
"degree in architecture and design."
  Is it just me,  or are is this couple the new
Kim Kardashian
and
Kanye
West
? 
Kanye
rants and raves about how fabulous he is, and how terrible other people are. 
Kim
stands by him, as the hot wife ready to distract the haters.  In fact, has anyone every seen these four people in the same room together?  Hmmm.  I think I'm on to something!