Keshia Knight-Pulliam is looking like she isn't an innocent victim of Ed Hartwell's blindside divorce!  Folks are jumping off the "poor Rudy Huxtable" train because things "just aren't adding up".  In fact, that is exactly what Keshia's husband, Ed Hartwell, said in an interview.  This is also the reason he wants a paternity test from his pregnant wife.  But if you are outraged by his cold-hearted divorce ambush, then good.  He deserves no sympathy.  His decision to marry the TV legend, after dating her for only four months, was suspicious.  (The couple do not have a pre-nup, and Rudy is reportedly worth 12 million dollars.)  Plus, filing divorce papers, without telling his pregnant wife first, is immature.  However, since the divorce news, Keshia 's bizarre behavior has  also been immature, and VERY suspicious.
*Watch this video to get ALL the details…AND SEE ED HARTWELL'S BOMBSHELL INTERVIEW!!!
Keshia Knight Pulliam responded to her divorce and paternity scandal, less than two days later!  She allowed 'Entertainment Tonight' into her home, to film her side of the situation.  In her very first statement, she denied being unfaithful by saying, "I have never cheated on him (pause) during my marriage."  That last part of "during my marriage" is a bit weird.  However, plenty of people have overlap relationships.  They probably both had "situations" in the beginning.  But In her interview, Keshia also claimed the following:
Ed cheated on her.
She served him divorce papers, but changed her mind after he begged her to stay.
The baby she is carrying is 100% his daughter and she is willing to give a paternity test.
Their daughter doesn't deserve this spotlight.
Ed left home Monday morning, while Keshia was still in bed.  He texted her

"I'm filing for divorce today, and I'm coming to get my stuff."

At the end of her interview, She tearfully announced, "I'm doing this one interview, and then I'm DONE.  I'm not going to continue to revisit and regurgitate".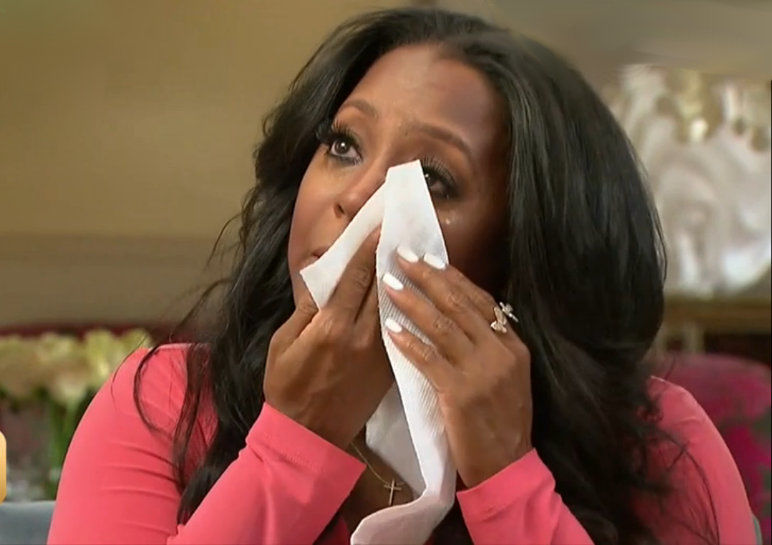 After watching her interview, I was so disgusted with Ed Hartwell and very proud of Keshia.  The next day, Ed gave an interview to pagesix.com, to tell his side of the story.  Here's what he claims about Keshia and their marriage:
She wanted a baby right away.
He told her that "Since we didn't actually have a long courtship" they should wait to have a child together.
A month after getting married, Ed told Keshia that he thinks the marriage may have been a mistake. "I said, I think we probably messed up. I think we moved too fast," he told us,

"Our lives and wants are headed two different directions."

Hartwell confessed that his ex, whom he dated for four years, had miscarried a and it made him realize he still

"cared about her."

Because Ed did not want a baby, Keshia asked him "If you don't want a baby, can I adopt?  If you don't want a baby, can I do in vitro?  If you don't want a baby, can i freeze my eggs and can you freeze your sperm?"
"What I learned about her is that if she wants something, she wants it now and she's going to go get it. That's one of the reasons we actually stopped having sex," he said.
Keshia

"started going out with friends all the time and not telling me when she was coming home or sometimes not coming home at all."

"She wants what she wants, I want what I want: she wants a baby, I want to find love and happiness. But at the end of the day, I think if things don't add up, I think it's fair for me, if things don't add up, to want a test."

"I can't say she was unfaithful. I can say she wanted to get in vitro, I can say she wanted to do some things to make sure she got pregnant. I just want to make sure it is mine."
Well that interview certainly shed new light on things.  With all of this drama, how could Keshia be completely blindsided?  None of Ed's points was mentioned during her interview.  A couple of times during her interview, Keshia teared up.  At the time, I was outraged and heartbroken for her.  Until I saw this picture that she posted on Instagram.  It was taken the same time as her interview.
How is she is cheesing at the camera, after being blindsided and publicly scandalized by their husband?  This 'cheerful diva' pose is just bizarre.  And her promo message for 'Entertainment Tonight', is even more weird.  This is the last thing that you'd expect to see from someone who's future has been turned upside down.  But, to be fair, I wondered if maybe she was faking it for the camera.  That possibility started to calm my suspicions.  Until Keshia posted this ridiculous picture:
Okay, this image is too much.  Mentioning her "amazing villiage" and "stuff happens" is just not believable three days after you've been blindsided with divorce papers.  And what about those pregnancy hormones that make you extra emotional?  At this point, I think that Keshia Knight-Pulliam looks so unbothered because she IS unbothered.  Ed Hartwell's claims that she wanted a baby more than she wanted her marriage, is starting to make sense.
Even worse, Keshia uses this drama involving her innocent baby daughter to promote her podcast!  What ever happened to "I'm doing this one interview, and then I'm DONE."?  And what about those tears of concern for her daughter?  During her interview Keshia said, "It's one thing when you choose to be in the spotlight.  It's another thing (choke, gasp) when you have a baby.  It's not about me.  She doesn't deserve it.  The biggest thing, and my priority is, she doesn't deserve it." I guess Keshia should have added the word "today" to the end of that sentence.  Two days later, she recorded a podcast about her divorce scandal.  Here's the link for those of  you that can stomach all the laughter and giggles.

Ed Hartwell
is a self-absorbed jerk who failed to put his family's well-being, before his own happiness.  Now it seems that
Keshia Knight-Pulliam
is also guilty of the same thing.  I'm going to save my sympathy for people who actually deserve it.  Peace out,
Rudy Huxtable
.
Tell me what YOU

think.  Am I wrong about this?  Leave a comment below and IKSPLAIN it!

  Don't forget to share this post