This weekend, Donald Trump attacked the mother of fallen U.S. Army Captain Humayun Khan, who was killed in 2004 by a car bomb in Iraq.Trump's attack was in response to a speech made by the fallen soldier's father, Khizr Khan, at the Democratic National Convention.  The proud Gold Star father gave a moving speech in honor of his son, who ran towards a suicide bomber, while ordering his fellow soldiers to run away.  His bravery saved hundreds of lives, and cost Humayun his own life.  "Hillary Clinton was right, when she called my son the best of America."
Khizr then passionately condemned Trump, as his wife, Ghazala Khan, silently stood by his side.  "If it was up to Donald Trump, he (Capt. Humayun Khan) never would have been in America.  Donald Trump consistently smears the character of Muslims.  he disrespects other minorities, women, judges, even his own party leadership.  He vows to build walls and ban us from this country." 
In response to Trump's pledge to ban immigrants based solely on where they come from, Mr. Khan said, "Go look at the graves of brave patriots who died defending the United States of America," Khizr Khan said, addressing Trump. "You will see all faiths, genders and ethnicities. You have sacrificed nothing and no one."
Then Khizr Khan dropped the hammer on the Republican Presidential candidate.  "Donald Trump, you're asking Americans to trust you wither their future.  Let me ask you, HAVE YOU EVEN READ THE UNITED STATES CONSTITUTION?"  As the crowd cheers wildly, Khizr nails his point home by adding, "I will gladly lend you my copy!" as he pulls it out of his jacket pocket.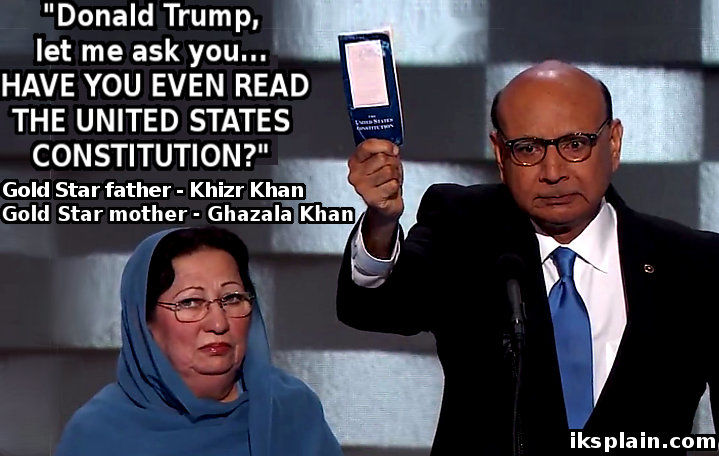 Two days later Donald Trump punched me in the gut with his nasty attack of Humayun's gold star mother, Ghazala Khan.
*Watch  Khizr Kahan's speech, Donald Trump's attack, my smack down in the video below!!!
When I saw Trump's nasty attack, it felt like a punch in my gut, because I empathize with Ghazala as a mother.  His comments, "The wife had nothing to say.  Maybe she wasn't allowed to say anything.", just shows how ignorant and insensitive Donald is.  Why is her religion and solidarity questioned, when he looked at her?  I think she was too human, for Donald to understand.  As Khizr Khan put it, the Trump family "have sacrificed nothing, and no one."  Instead, his family stay busy eating from the troughs of prosperity, like pigs.  Except when they are busy hunting elephants and other animals for fun.
Trump's oldest kids share their father's commitment to avoid serving in the military.  Donald has been revealed as an expert draft dodger, too.
Let's remember what The brave fallen soldier, Captain Humayan Khan, stood for.  Let's forget the shameful Donald Trump and the Trump family.