Real Housewives of New York viewers had a front row seat watching Bethenny Frankel as a relationship terrorist.  Bethenny was so hyped when   a friend told her that Luann's fiance, Tom D'Agostino Jr., was making out with someone at a bar!    She couldn't wait to terrorize Luann with the news…on camera. The fact that Luann is walking around on "cloud ten", just made her a target for Bethenny.  You can almost hear her brain working.  "Why does she have to be so damn happy?  I need some smog to put in her cloud of happiness!"  Oh sure, Bethenny pretended to be upset about the news.  She even added a generous amount of groans and sighs as she told shared the scandal… ON CAMERA!
Of all the sleezy things to pull, this is beyond forgiveable.  She could have told Luann in private, and spared her the public embarrassment.  But, that's not Bethenny's style.  By now, Luann already knows about Tom's wondering lips.  She has forgiven him, and the wedding is set for New Years Eve. in Palm Beach, Florida.  She even wrote about it in her blog this week.
"I'm thinking that Bethenny is going to be the terrorist of this trip! You can see how excited she was to tell her friend in Florida about something she heard regarding Tom and me. The look on her face says it all…like a cat who ate the canary! Why some of the girls revel in making me unhappy, I'll never understand. I'm just glad that I know myself and I know Tom so whatever Bethenny's concocting, we're ready for it,"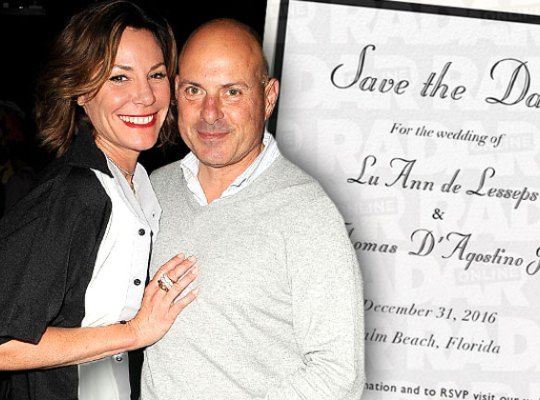 According to Bethenny's minion friend, Tom was so drunk, that he might not even remember that night.  Luckily, the person took a picture and sent it straight to good ol' Bethenny Frankel!  Fortunately Tom has admitted his awful behavior. He even addressed it in a dignified/cowardly way.
"With any relationship, there are always bumps in the road. We had one misunderstanding that led to actions that I deeply regret. What is important is that we were able to work through it and we are stronger than ever,"


So
Bethenny's
master plan failed.  What plan?  I think she enjoys destroying any happiness that others have.  Except, of course, if adoring
Bethenny
is what makes you happy. (
Carole Radziwill
, I'm looking directly at you.)  I wouldn't even be surprised if the
Bethenny
's spirit animal is the Black Widow Spider.  They're the spiders that eat their husbands after mating.
In case you missed these, here's MORE! Please click a share button too.  Thanks!