Donald Trump and Billy Bush in their offensive conversation, while they thought their microphones were off, is worse than we think!  Here's a full video and transcript of Trump bragging about trying to score with married TV host, Nancy O'Dell.  Donald was also explaining that he can do anything he wants to women.  Because he's a celebrity, Trump says he can even "grab them in the pu**y"!  By the way, What the heck kind of move is that?  I'm having flashback of Bill O'Rielly talking about using a loofah!  (shiver)  In this video, Billy Bush is busy laughing the entire time.  Especially when they start talking about 'Days of Our Lives' actress, Arianne Zucker.  Ugh.
In all videos and transcripts that I watched, in horror, there is some mumbling moments that are not transcribed.  Some from Billy Bush, and some from Donald Trump.  How frustrating!  Although what they clearly said is awful enough, I wanted the entire picture.  So I took some time to rewind, and isolate what both of them said.  I didn't get it all, but definitely got further than most of the videos out there!  In the end, Billy Bush does way more than laugh and encourage Donald. That's why I dubbed Trump and Bush, "The Pig And The Apprentice".  You're welcome.
*SPECIAL  ANNOUNCEMENT* I'm so excited to share this with you all!  Here's some hilarious items from my new "Gear For The Fearless" online store.   http://tee.pub/lic/NCXty4agcFo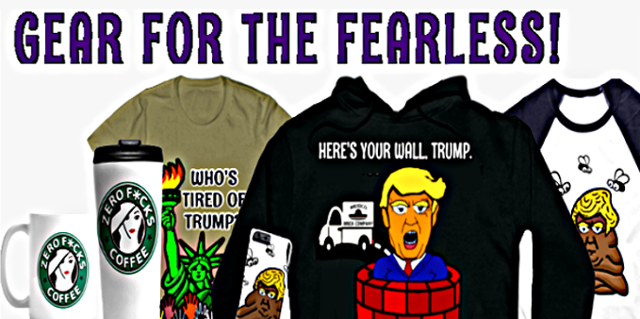 Get your Protest Gear- BEFORE TRUMP BANS THIS TOO!

Am I the only one who didn't know that
Billy Bush
is related to
George W Bush
? They are cousins!  Who knew it was even possible to further damage the
Bush
legacy?  I think 'The Today Show' should give Billy Bush the boot.  What do you think?  Comment below and share this post!