Kim Kardashian robbers were caught on video tape!  The leaked footage show five men walking towards Kim's Paris hotel apartment at 2 o'clock in the morning, at the same time as the robbery.  Within the same minute, three of the men are seen riding on bicycles.  They are all riding at a fairly quick pace.  Fifteen minutes later, another man is seen slipping out of a building doorway, and walk down the street in the same direction as Kim Kardashian's hotel.  Shortly after that, a fifth man is seen on foot, walking in the same direction as the other four. The video footage is taken from an outside street camera, in what looks to be an alley or narrow street.  About 45 minutes later, all five men are caught on camera, hurrying back the opposite direction.  The street video clearly shows one of the men riding a bicycle, holding a heavy fabric bag!

Okay, so is anyone else creeped out?  There's a certain calmness the five thieves have, that just doesn't make sense.  WHY are they using bikes and feet to walk away?  It's like they know, that they're not going to get caught.  And I still don't understand how they could plan this attack.  A robbery like this DOES take planning.  Reportedly,
Kim
said they were were fake (maybe Halloween) police costumes.  Well where are they?  Why haven't the police found them ditched in a dumpster somewhere.  How did they know that they'd even get a chance to have
Kim Kardashian
alone?  Why wasn't
Kim
's jewelry in a safe?  How did the robbers know that it wasn't kept in a safe?
I'm not saying KIM KARDASHDIAN faked it.  I don't think so, but I also don't know who's behind it.  I DO think that the thieves had inside help.  Not just before the burglary, but during and after, as well. Plus, it doesn't help that Kim has kept quiet about it.  I don't think she should be talking, but it does leave room for conspiracy theories to grow.  This story is so bizarre!
*SPECIAL  ANNOUNCEMENT* I'm so excited to share this with you all!  Here's some hilarious items from my new "Gear For The Fearless" online store.   http://tee.pub/lic/NCXty4agcFo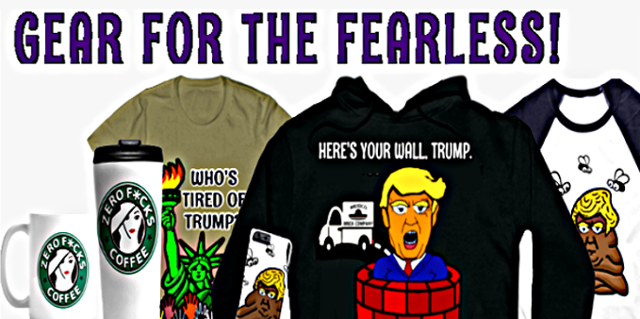 Get your Protest Gear- BEFORE TRUMP BANS THIS TOO!