REAL HOUSEWIVES OF ATLANTA SEASON 9 has lots of tea being spilled. The gossip is juicy and  includes Porsha Williams claiming that  Kandi Burruss tried to hook up with her Georgia "peach"! Porsha made this announcement while filming this current season of RHOA! The season 9 preview shows Porsha calling out the songstress for inviting her for a threesome with her husband, Todd Tucker. At the time, Kandi laughed it off, but you know she wasn't going to let that go, right? After the premiere aired, she hauled it over to 'The Wendy Williams Show' and called Porsha out for exaggerating. However she did admit to a "girl on girl kiss." Oh really?
So who's telling the truth? Well good news, because there's been leaked texts between Kandi and Porsha, after the incident! Check out the video at the end of my post, to see who's lyin' and who's tryin'!
Some other surprising news involves Apollo Nida. It's been reported that he's engaged to a wannabe housewife named Sherien Almufti. And yes, Apollo is STILL behind bars. That's not stopping his new boo from getting some screen time on Real Housewives Of Atlanta season 9, though! Where the heck is Nene Leakes when you need a good ol' "the thirst is real" line delivered? Bwahaha. Bravo has polished up Sherien (literally) and is set to parade her in front of our half lowered eyes.
Also, the verdict is finally in for Kordell Stewart and his lawsuit against Andrew Caldwell.  Andrew is the viral star who claimed he was "DELIVERT" from being gay. I must have watched that video a thousand times. Unfortunately for him, Caldwell's short lived fame got to his head. He also claimed that Kordell was his sugar daddy…while he was married to Porsha! Kordell turned around and sued him. Why does Kordell insist on defending himself against gay rumors? True or false, it doesn't matter. Talking about it just keeps the topic going. Watch the video to see who was "delivert" in court! Now sit back and sip all this tea.
*SPECIAL  ANNOUNCEMENT* I'm so excited to share this with you all!  Here's some hilarious items from my new "Gear For The Fearless" online store.   http://tee.pub/lic/NCXty4agcFo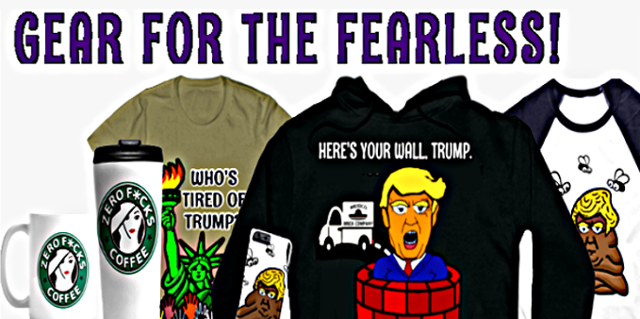 Get your Protest Gear- BEFORE TRUMP BANS THIS TOO!

Real Housewives of Atlanta
side drama is just as entertaining as the episodes! And don't worry about
Kenya Moore
,
Sheree Whitfield
,
Cynthia Bailey
,
Phaedra Parks
, and
Peter Thomas
. I'll be dishing about them soon.