REMY MA from Love & Hip Hop New York, has apparently taken shots at NICKI MINAJ! The rap streets is officially on beef alert after Remy Ma recently released her track on the 'Phresher' remix (featuring 50 Cent).  Before this happened, we have seen her join Love & Hip Hop New York, with a laser focus on regaining her position on top of the music scene. She's successfully swerved getting into trouble while around both friends and foes (Rah Ali and LHHNY cast).. Since then, she has linked back up with Fat Joe and has been enjoying the success of their smash hit 'All The Way Up' with Joe and French Montana. That's why this latest move to come for Nicki Minaj, caught a lot of people by surprise. Watch the video below to get all the details.  Fair warning: Remy Ma goes in hard…but what I guess she's ALL THE WAY (turnt) UP!

 Although
Remy
doesn't call her by name, there's only female MC that's consistently been accused of using a ghost writer (besides Iggy Azalia). Plus, with
Remy
MA
posting a picture of her, Papoose and Safaree, any doubts that Nicki is the subject, are practically erased. Since shots were fired,
Nicki Minaj
has continued to pay
Remy Ma
dust. It's safe to say, that news definitely got back to
Nicki
. Perhaps she's exhausted from the beefs that her boyfriend, Meek Mills, is constantly caught up in? Either way, it's good that no other fuel has been add to the fire. Personally, I'd rather see these two ladies do a collab together, and snatch ALL the shine from the fellas for a while! It's hard enough for women to make it in the music industry.  Especially the hip hop and rap genres. Maybe, we could let Queen Latifah and Lauren Hill  finally retire! Hahaha. We'll have to wait and see!
*SPECIAL  ANNOUNCEMENT* I'm so excited to share this with you all!  Here's some hilarious items from my new "Gear For The Fearless" online store.   http://tee.pub/lic/NCXty4agcFo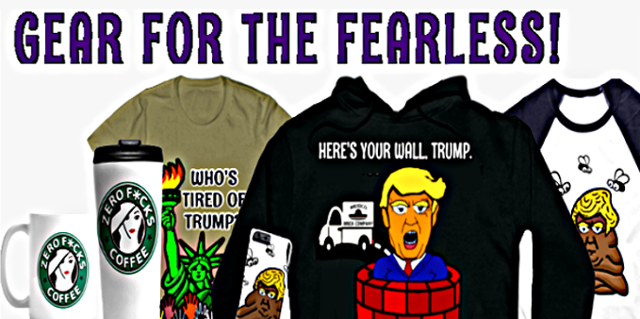 Get your Protest Gear- BEFORE TRUMP BANS THIS TOO!