Ceaser and Dutchess from Black Ink Crew New York have officially broken up! Now Dutchess is putting Ceaser on full blast for getting his side chick pregnant and  causing an end to their engagement. For his part, Ceaser is also doing a lot of clap backs and  petty moves too. This entire mess is definitely a juicy preview episode for Black Ink Crew New York season 5! Although this baby mama rumor started off as gossip, Dutchess has now posted this on her official Instagram page!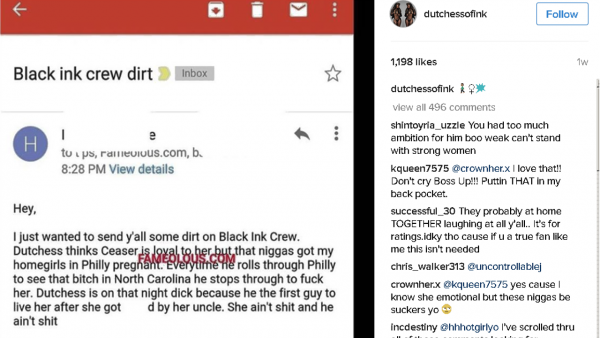 This is a perfect example of "co-signing". Now Ceaser is doing a ton of clapping back, as well. His comments are all subliminal, though. (#Suspect) It's really interesting to note that he does NOT deny that he got some chick pregnant. However, he does suggest that Dutchess is a deserter and not committed to their relationship. Hahahah. Cough. Gasp. Choke.
Watch the full video PopCast below to sip ALL the tea on this Black Ink Crew New York ex-couple!

I think that both
Dutchess
and
Ceaser
still love each other, though. Despite all the anger and hurt feelings, their history will remain a bond. I also think that some people are just better apart. Like Tina Turner said, "What's love got to do with it?" If
Ceaser
did cheat on her, we all know it's not the first time. Perhaps he's just not the type of guy who is content with only one woman? There's something ridiculous about expecting people to act against their character… for the rest of their lives. Just because you, your mama, or society, thinks that's what a person should do, doesn't make it right. To me. it's far better to be honest with yourself and others around you. Lying and betraying others is worse than not conforming to the expectations of others. As an extremely loyal Virgo, I can't believe I'm saying this! Maybe it means I've actually grown up? Hahaha. Remember,
Black Ink Crew New York season 5
begins January 2017, on VH1.
*SPECIAL  ANNOUNCEMENT* I'm so excited to share this with you all!  Here's some hilarious items from my new "Gear For The Fearless" online store.   http://tee.pub/lic/NCXty4agcFo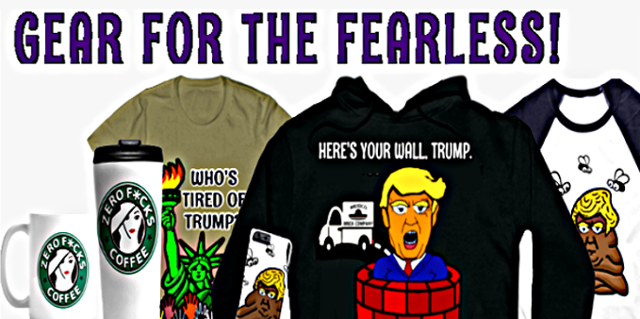 Get your Protest Gear- BEFORE TRUMP BANS THIS TOO!
In the mean time, be sure to check out all my previous BLACK INK CREW NEW YORK videos! Here's a few.