Hi everyone!. I know this time of year can be stress full. So… to remind you to LAUGH during the holiday chaos, I've got three fabulous treats for everyone! First let me thank everyone that has visited and enjoyed my crazy, gossipy, HIGHLY informal site.  It's been a wild ride, and I appreciate all of the support.  Okay, so in between the chaos, i have discovered some very cool YouTubers, who serve their own brand of drama tea.  They are funny, informative, and sometimes plain ol' messy!  And they are entertaining as hell!  So, I've created three tribute parody videos, to share them with you.  Whether or not you know them, I've made sure to add my WTF fairy dust, to give you a clear picture about their personalities.
Before we get into this, I've got some cool and very fun news!!!
*SPECIAL  ANNOUNCEMENT*I'm so excited to share this with you all!  Here's some hilarious items from my new "Gear For The Fearless" online store.   http://tee.pub/lic/NCXty4agcFo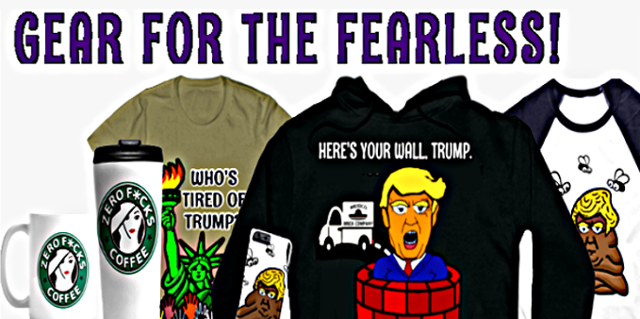 Get your Protest Gear- BEFORE TRUMP BANS THIS TOO!
Now, here's the fun YouTubers I want you to see.  First up, are two guys who recently went through some wild and crazy YouTuber beef.  There names are Sanders Kennedy, and Rich Lux.  Although most of their audience, had NO IDEA what the real reason behind the beef was… I finally figured it out!  Bwahaha.
Next up is a hilarious parody of newcomer, Peter Monn.  Peter is a fabulous fast talking commentator and engaging story teller, who keeps you guessing and keeps it real!  His opening intro is "Hey guys! It's Peter…and I'm baaack!"  He shares his wisdom, as well as his struggles, with a song or pop culture reference always on the tip of his tongue!
This next video is about a lady named Karina Kaboom.  She is a beauty channel who also covers YouTuber drama.  She's been around for a few years, and her style has evolved to this wonderfully strange balance of neutrality.  Along with her conspiracy theories, Karina makes sure to bring you ALL seventeen sides of every issue.  The end result is like getting drunk on a "Kabbom Cocktail"… minus the alcohol hangover!  I'm not sure exactly what happened, but I'm grateful for the distraction from my reality.  Even though, Karina disables her comments section, it's only added to her appeal!

I hope you all have a fun holiday, filled with great discount sales, yummy food, and laughter!  Thanks again for hanging out.  Stay safe and I'll talk to you soon!