Meryl Streep dragged Donald Trump for filth at the Golden Globes Awards. Calling him out for his instinct to lash out at those with less power, like thedisabled  New York Times reporter.  Then Trump turns around and proves that EVERYTHING she said was true!  During the awards show, Meryl won the 'Cecil B. DeMille Lifetime  Achievement Award'.  Meryl chose to use her time on stage to draw attention to the divisive attack dog nature of America's future President.  After praising the wonderful and courageous performances by this year's nominees, Meryl Streep described one performance that "stunned" her.
"It sank its hooks in my heart. Not because it was good, there was nothing good about it,.  But it was effective and it did its job. It made its intended audience laugh and show there teeth. It was that moment when the person asking to sit in the most respected seat in our country imitated a disabled reporter, someone he outranked in privilege, power and the capacity to fight back."

"It kind of broke my heart when I saw it and I still can't get it out of my head because it wasn't in a movie, it was in real life.  This instinct to humiliate, when it's modeled by someone in the public platform, by someone powerful, it filters down into everybody's life because it kind of gives permission for other people to do the same thing.  Disrespect invites disrespect, violence incites violence.  When the powerful use their power to bully others, we all lose."

"Hollywood is crawling with outsiders and foreigners and if we kick them all out, you'll have nothing to watch but football and mixed martial arts, which are not the arts."
*SPECIAL  ANNOUNCEMENT* I'm so excited to share this with you all!  Here's some hilarious items from my new "Gear For The Fearless" online store. 
  http://tee.pub/lic/NCXty4agcFo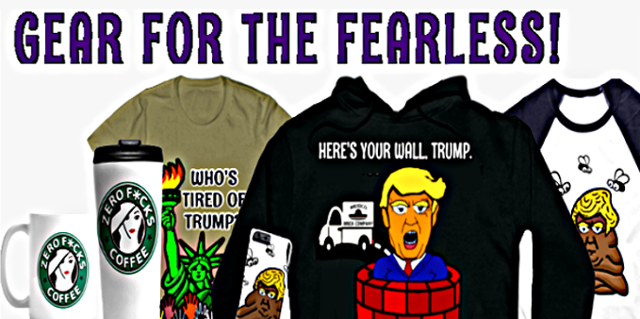 Get your Protest Gear- BEFORE TRUMP BANS THIS TOO!

Now watch my video response to that night Donald and also witness the brilliance of Meryl Streep!  Also, check out the typically immature Twitter-thugging that we've all come to expect from Donald Trump.